COAST INDUSTRIAL MACHINING
Specializing in repairing hydraulic cylinders since 1984.
Why Choose Coast Industrial Machining?
We offer a fully equipped machine shop with the knowledge and modern equipment required for quick turn around times and reduced maintenance costs. We offer a wide range of services with our "As good as new" approach.
Huge supply of cylinders in stock
We only charge cost of repair with cylinder brought back to OEM spec, plus a small user fee.
Our Services Include
We provide Machining, Hydraulic Cylinder Repair, Hydraulic Cylinder Exchange Program.
Our Equipment and Facility
Click on the pictures below to view our galley
Here at Coast Industrial we take pride in our expertise when it comes to getting you
the parts you require, either in manufacturing or rebuilds.
Our experienced staff know how to fit your needs with cost effective results in getting
your equipment up and running in a time managed, efficient manner.
We quickly assess and help you make the decisions that best suit and end result to keep your operation running without long delays.
With our new larger shop facility and equipment we are excited to take on any new challenges that come our way.
Stop by and we will give you a tour of our facility and let you know how we may be able to help you with job specific items, or quotations on work you may require.
We offer exchanges on cylinders, and have over 180 cylinders in stock.
With over 50 years of experience in the industry, you can be assured of quality workmanship and a job that provides long service life.
A complete report of damage, the work to be done and quoted costs are provided for your approval.
Quality service and attention to detail have made us #1 in this industry.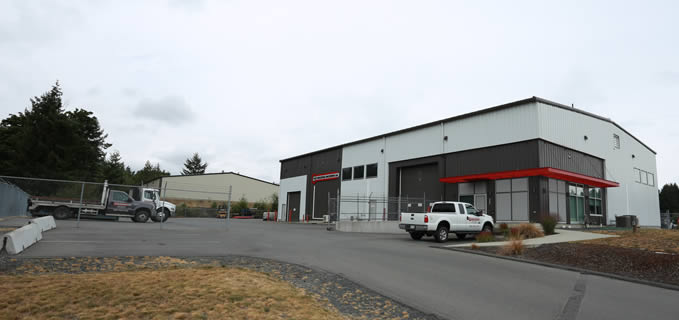 What sets us apart from all other companies is;
We are a complete machine shop
Have a great cylinder exchange program
We have the largest cylinder repair facility on Vancouver Island
We have C & C honing technology
With all our newest modern equipment – we are the go to place on the Island!
We pride ourselves on being 20-30% faster than all our competition since moving into our new modern facility along with our new and upgraded machinery and very qualified staff.
With the implementation of our modern full machine shop we are capable of disassembling and reassembly of 8 cylinders per day.
SEALS AND SEAL KITS

We provide seal products to a variety of industries such as: construction equipment, and logging equipment. Replacement seals, seal kits and hydraulic cylinders are stocked for well known names.
Hydraulic Cylinder Rebuilding
We have the equipment to do it right!
Hydraulic cylinder rebuilding requires a series of procedures

At Coast Industrial, we implement these procedures on every job to ensure that the job meets or exceeds O.E.M. standards.
With over 50 years of experience in the industry, you can be assured
of quality workmanship and a job that provides long service life.
A complete report of damage, the work to be done and quoted costs are provided for your approval.
Quality service and attention to detail have made us #1 in this industry
Hydraulic Cylinder Exchange Program
Cylinder applications include Log Loaders & Excavators
Madill – John Deere – Hitachi – American – Caterpillar – Weldco
Fully equipped machine shop
Fully equipped machine shop for all general machine shop work
Equipped with leading-edge tools and the experience to get the job done right . We offer machining services for a wide variety of industries including forestry and construction. 
Our skilled machinists work within tight tolerances to meet the strictest of specifications.

Custom machining, fabrication, and welding
Custom design and product development to industrial & commercial customers